Project Showcase: Hogwood
Nashvillian, Josh McBride, contacted Team Nice to handle his BBQ restaurant branding project. A barbecue concept right in our backyard?! Our team holds barbecue and restaurant branding close to our heart, so we couldn't resist taking this project on.
Josh and his team have extensive experience in restaurant operations, so they couldn't be more well-suited to run this restaurant. With their background opening and running other restaurants, they understood the importance of restaurant branding and how it could impact the success of their venture.
Before we started this BBQ restaurant branding project, the concept already had a name and a logo. A chef in Colorado named Michael created Hogwood. He created a catering business known for aromatic smoked meats and sides, just like grandma used to make. The Hogwood team decided to bring Michael's food to Franklin, Tennessee as a fast-casual restaurant concept  —with a smokin' brand to support it.
Brand Direction and Message Alignment
When kicking off a BBQ restaurant branding project, we start the process with brand direction and creating a brand board to showcase the visual direction. The board featured natural rough wood tones, industrial hardware, aged recipe cards, wall installations, black-and-white focal tile, and hints of the color mustard with the goal of setting their brand apart from your typical black-and-white BBQ restaurant.
The brand board was the roadmap for this BBQ restaurant branding project. We crafted brand support for Hogwood based on this brand direction. Our team created a message that would set the brand voice and provide written interest to accompany the visual direction. The brand story nodded to the origins of Hogwood and spoke to the true soul of BBQ — the fire.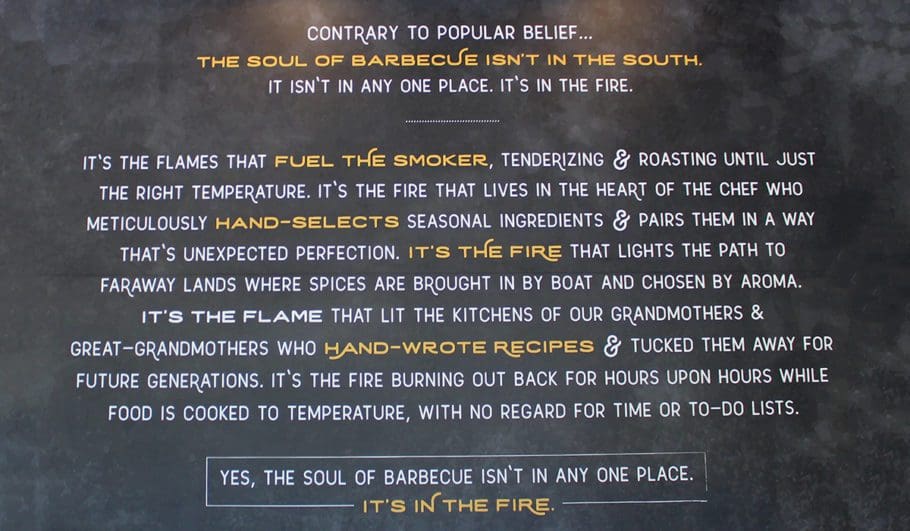 After meeting with Chef Michael, we came to the realization that the heart and soul of BBQ is really in the role the fire plays in cooking meats to temperature, lighting and warming the kitchen, and ultimately, creating the unique taste in each dish.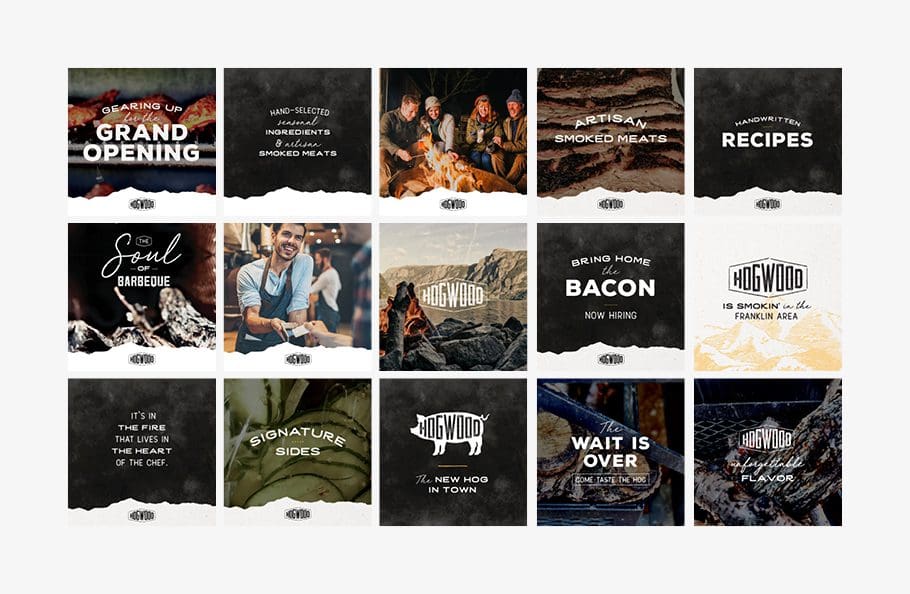 Interior Branding
Next, our team started on interior branding. In this process, we focus on weaving the visual brand and messaging through all customer touchpoint.
It's important for that the brand support through the entire customer journey prompt a sale and ensures the customer is immersed in the brand to create connections.
Even if one brand is off, it can interfere with the customer connection. That can result in a disconnect that not even the customer can define.
In Hogwood's BBQ restaurant branding project, we implemented many tactics referenced in our Brand Schemin' session. Our interior design team proposed a wood storage area that emphasized the fire's role in the brand. Above this wood space, we installed a large wall mural to communicate the brand story. Our clients got chills the first time we presented their brand story — and that's the reaction that we want for all of our clients!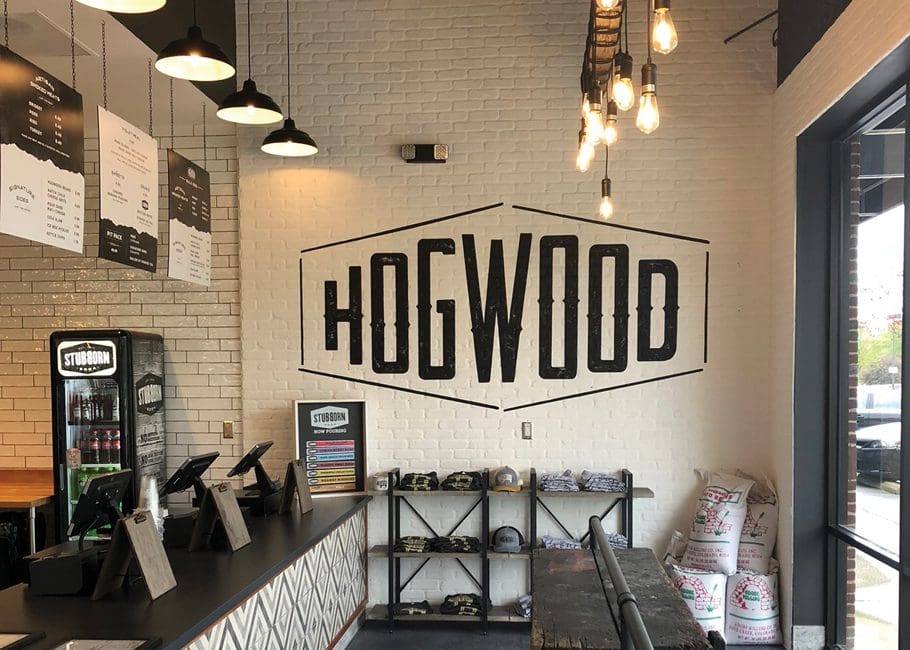 Custom-made wooden community tables and industrial seating were incorporated into the space. Then, we added a unique tile help guide the customer in their restaurant journey to break up the wood and bring interest to the flooring. The counter featured geometric wooden tiles to bring
in a modern take on rustic, and a variety of industrial light fixtures created layering within the restaurant. To top it off, we stocked the tables with recipe card boxes and vintage jars.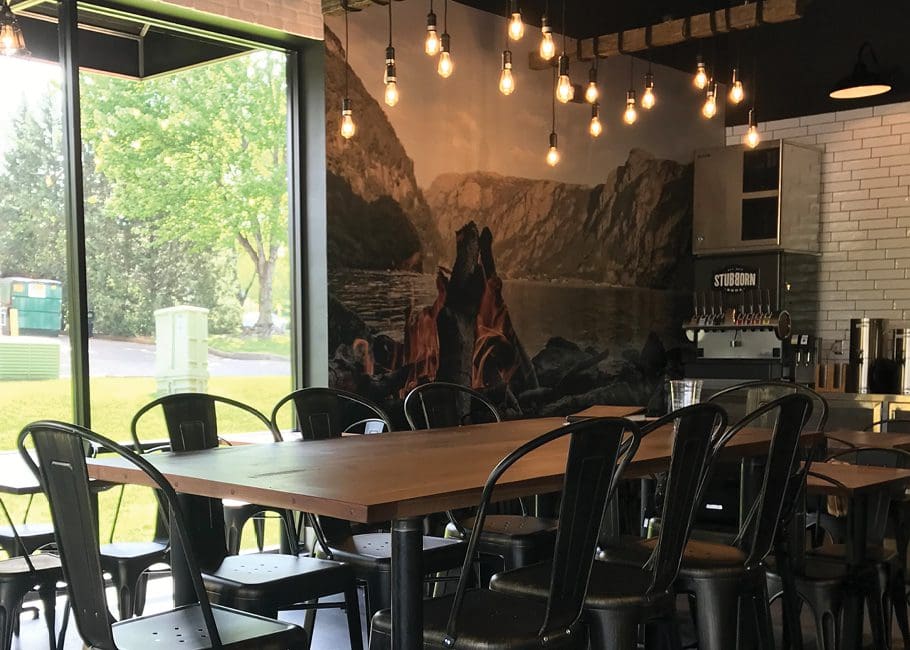 Restaurant Branding Materials
Now onto the menus in this BBQ restaurant branding project. We crafted a menu for both dine-in and take-out. To further communicate Hogwood's menu, we designed corresponding menu boards to make the ordering process more seamless at the register. And let's not forget the importance of having a web-friendly format online at www.hogwood.com.
From that point, we began designing other restaurant materials. These included cups, attire (for merchandising and staff), take-out bags, a gift card, and more.
Before beginning design, we expressed the importance of a logo refresh to our client, and the value it would bring to their new concept. They had a nice, existing logo, but we made some revisions. Our revisions ensured the logo would display well in all applications and adhere to logo development best practices. At the end of this phase, our client was in full agreement and support of the refreshed logo and the secondary support design for this BBQ restaurant branding project.
Restaurant Website
Next, we started on the Hogwood website. The site's design was a simple concept with the goal of getting users to dine in at the restaurant. The primary calls-to-action featured callouts to get directions or take a gander at the menu.
We also knew it was important to communicate that Hogwood was a new restaurant, and it was an opportunity for customers to connect to the brand story and Hogwood's key differentiators from other barbecue joints.
Hogwood was an incredibly successful BBQ restaurant branding project. There are a few key factors that led to our success. First, our clients are experienced restaurant owners and operators. Secondly, we worked hand-in-hand with an architect to implement the interior restaurant branding. Finally, the Hogwood team fully trusted the branding agency they hired (that's us!).
We loved working on Hogwood. We're thrilled that they are less than a mile away from the Nice Branding Agency HQ.
In need of someone to help with your BBQ restaurant branding project? We're only a quick email away at holla@nice-branding.
ready to brand your restaurant?