Is Professional Food Photography Important for Restaurant Branding?
When you consider professional food photography for your business, it is wise to keep in mind the saying "a picture is worth a thousand words." Professional food photography boosts both your branding and your marketing and can be a huge key to increasing sales.
This is because photography strongly appeals to the emotions of the consumer. A great photo can really make a consumer want to taste your food. And isn't that the goal?
As a restaurant branding agency, we have a lot of practice with food photography. Here is how we know that photos are worth your time and money, and some tips for restauranteurs teaming up with a professional food photographer.
Professional Food Photography: Why the Results are Worth It
Up front, the biggest deterrent for most restaurant owners for food photography is the cost. We know it looks pricey up front when you consider all of the hours and food it takes to conduct a photoshoot. However, it has been proven time and time again that photography is what draws customers in and drives sales for restaurants.
Incredible photos make a great selling statement. Food is your core offering. Food is where the passion is. You want it to be enticing. It has to be enticing!
Professional food photography is an investment in what you do best. However, it is also strategic because you will be able to use your food photos in so many ways. You can put them in print ads, on social posts, in online ads and on your menus. Plus some other places. A lot of other places.
Professional Food Photography Tip: Don't Use Your Phone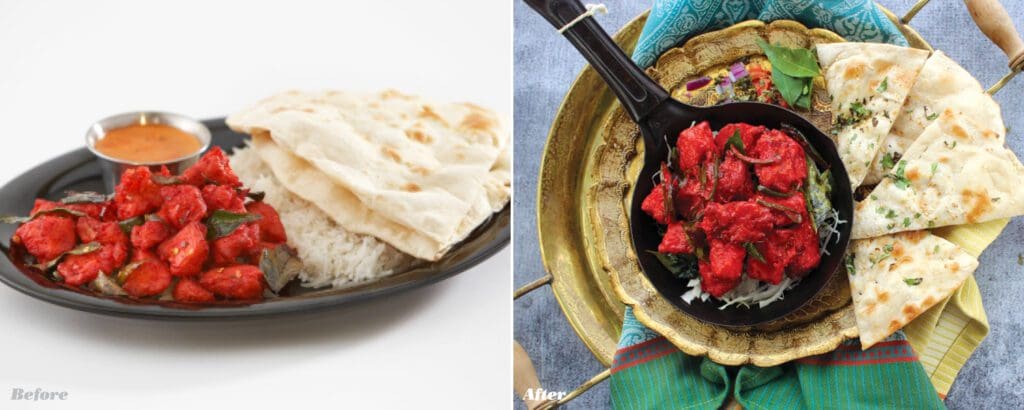 These days you can take a decent photo on your phone. However, we strongly advise against taking your food photos on your phone.
Your job as a restaurant owner is to portray your food in the best way possible. You want it to be realistic… but also your professional photos should be a little larger than life. They should take some creative direction, staging and prop styling to extend your brand.
Let your customers snap phone photos and share, share, share.
It takes a team to style food: you need props, good angles, lighting, a great camera, etc. But it's so worth it and makes a world of difference in your pictures.
Professional Food Photography Tip: Give Those Images Legs
Once you have your suite of professional images from your shoot, you will want to start using them everywhere to spread the word about your restaurant.
Your food photography needs to display the personality of your brand just like the rest of your collateral so that you can use the photos everywhere to represent your brand. We say it all the time, but all of the aspects of your visual image need to align with the direction of your brand. Your professional food photography should be able to speak for itself.
Even a small collection of great photos can be a great marketing tool for your restaurant.
Ready for Your Closeup?
Have you created a menu that represents your venture and captures your passion? Let us tackle your professional food photography and portray your brand in the best light. Contact the Nice team to get your project started!
ready to brand your restaurant?