How to Refresh Your Restaurant Brand
Our restaurant branding firm isn't the first to notice that the restaurant industry is innovative, ever-evolving, and rapidly changing. It demands forward-thinking; and if you're not up for keeping up, you're better to just stand down. 
As restaurant branding experts, our team can assure you that it's not about just reprinting your menu or changing out the tables and chairs. If you simply do that, you'll be doing it again and again, which requires a lot of effort for a little success.
There's a smarter way to create effective change in restaurants. It requires getting to the heart of the brand, through thorough research, brainstorming, and study, ultimately defining the essence of the restaurant brand, then allowing that essence to flow into every piece of the customer experience. 
If you're up for learning about the right way to implement a brand refresh, take a look at the process we use to brand or rebrand restaurants.
Assemble Your Team
There are a few key people to have on your team as you look to reinvent or refresh your restaurant. 
You'll want to have a restaurant branding firm with experience in your sector, whether it's quick-serve or full-service dine-in. Additionally, this restaurant branding firm should have experience in multi-location concepts. Designing a restaurant is one thing, but creating a concept that is user-friendly, engaging, affordable, durable, and easy to replicate is a whole different ball game. 
It's also important to know whether the firm has experience with full construction ground-up builds, a move into an existing restaurant structure, or reworking an operating concept.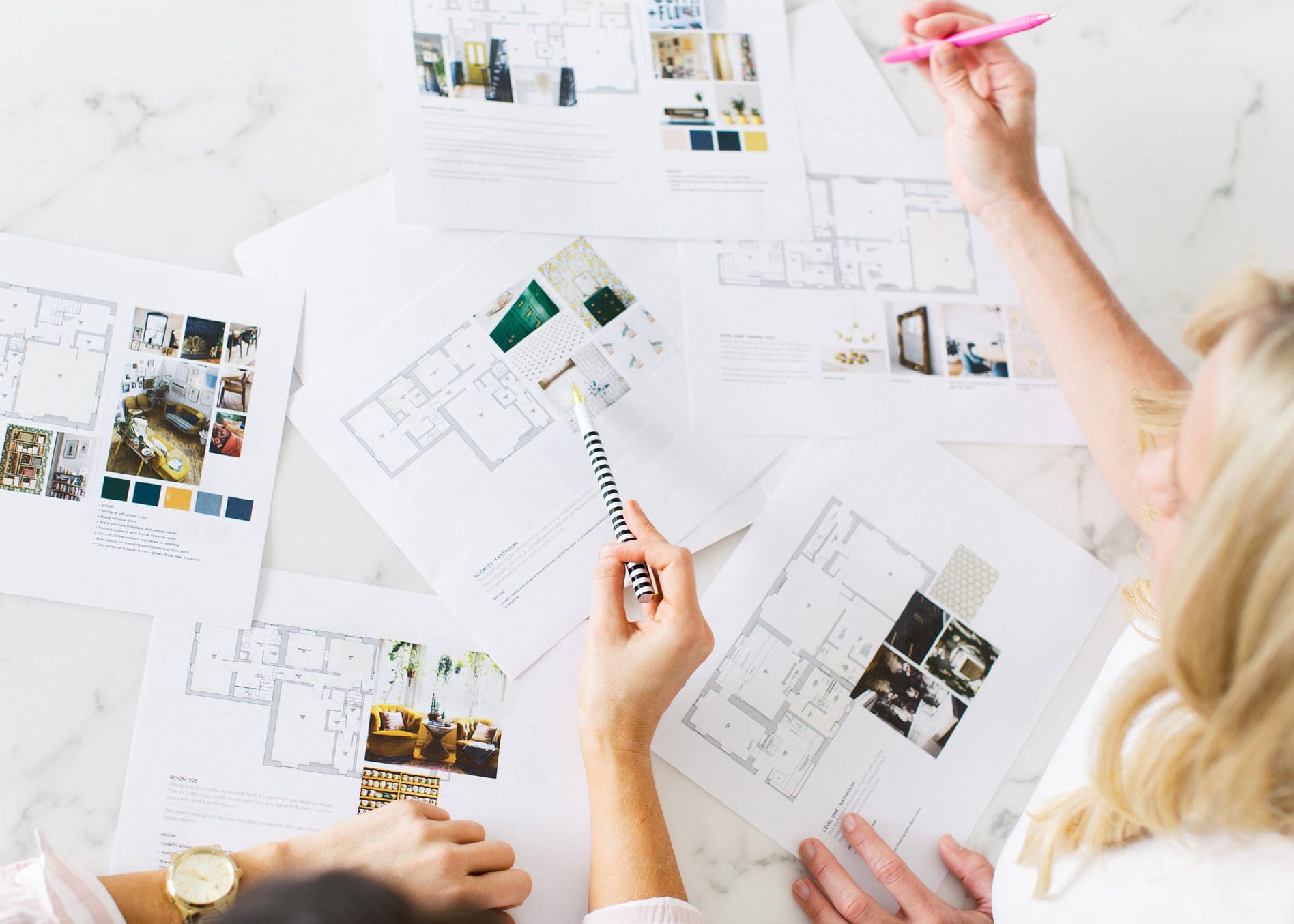 Choosing your restaurant branding agency partner first is your best bet, because as you assemble the rest of your team, the restaurant branding firm will be able to begin the initial phases required to uncover the soul of the brand. 
Don't get too caught up on the size of the branding firm you choose. Bigger is not always better. Smaller firms bring a higher degree of expertise to the table and are more agile. They are nimble and flexible with timelines and decisions. There's not a lot of red tape to break through, which is helpful in the restaurant industry because most things are needed fast. 
Once you've settled on a restaurant branding firm, you'll want to allow them to call the shots. 
They will be your conductor. It's their job to make sure that all the pieces stay in line with the direction of the brand. 
Next, you'll need an architect and a general contractor. Your restaurant branding agency may have contacts within this space that they would recommend, and it's wise to follow their lead if the projects they have completed together are successful. 
If the selected branding or architectural firm doesn't do interior branding or interior design, you'll need to bring in an experienced interior designer with restaurant experience. 
Other team members are most likely part of your direct team, such as the kitchen operator and general manager. 
You'll want to bring together the restaurant branding experts, the architect, the general contractor, franchise development group (if applicable), kitchen operator, and general manager. All of these parties have a stake in executing the concept, and all should contribute to the conversation to confirm that the new plan will work. 
Get Down to It
Step One: The Soul of the Brand
The first phase is very aspirational. It may feel like there are very few tangible deliverables.
Consider this our fair warning: DO NOT SKIP THIS STEP. 
Often, expenses need to be cut, but it's the most important step to success. 
Although you may have in your head what you want your restaurant to be, it's important for the team to have the solidified essence of the concept in written and visual format for reference throughout the entire process. 
You see, the biggest mistake we see restaurant owners make is that they start with a color, or a logo design, or an exterior sign, or the interior design. Starting with these elements is hugely out of order. The brand plays into the way you act, what you do and don't do, and why. The brand influences the design of the logo, the menu items you serve, the way employees act, and the look and feel of the space. The heart of the concept has to be established at the onset of the project, before any tangible item is defined. 
A brand is also defined by an emotional response from the consumer; it's a classification through thought.
The only way for a brand to have a chance at coming to life is for the brand to first define what they desire that emotional response to be, and then make sure that every action, design, and decision results in that emotional response. 
You may have to sit on your hands here for a quick minute as you'll want to start facilitating things. However, your facilitation before the soul of the brand is set may lead to complete failure. 
When our restaurant branding team begins to develop a concept, we start with a discovery session where we ask a plethora of sometimes seemingly basic and meaningless questions. However, these questions allow us to extract the desired emotional response and set the brand promise and positioning. In short, it's a creative way to get owners and stakeholders to think creatively and talk differently about their concept.
One thing not to ignore while rediscovering or redefining an existing restaurant concept is customer behavior and preferences of current guests or lapsed guests. It's important to get their take on the concept. Why do they enjoy it? What is missing? How does it make them feel? Why do they choose it? Why do they not choose it? Where do they choose instead? 
The answers to all of these questions will help shape a successful resurgence. Collecting this data doesn't have to be expensive or complicated, but it should be done and highly considered. 
At the completion of this step, you should have a brand narrative and a visual direction with a clear understanding of the purpose of the brand in written format.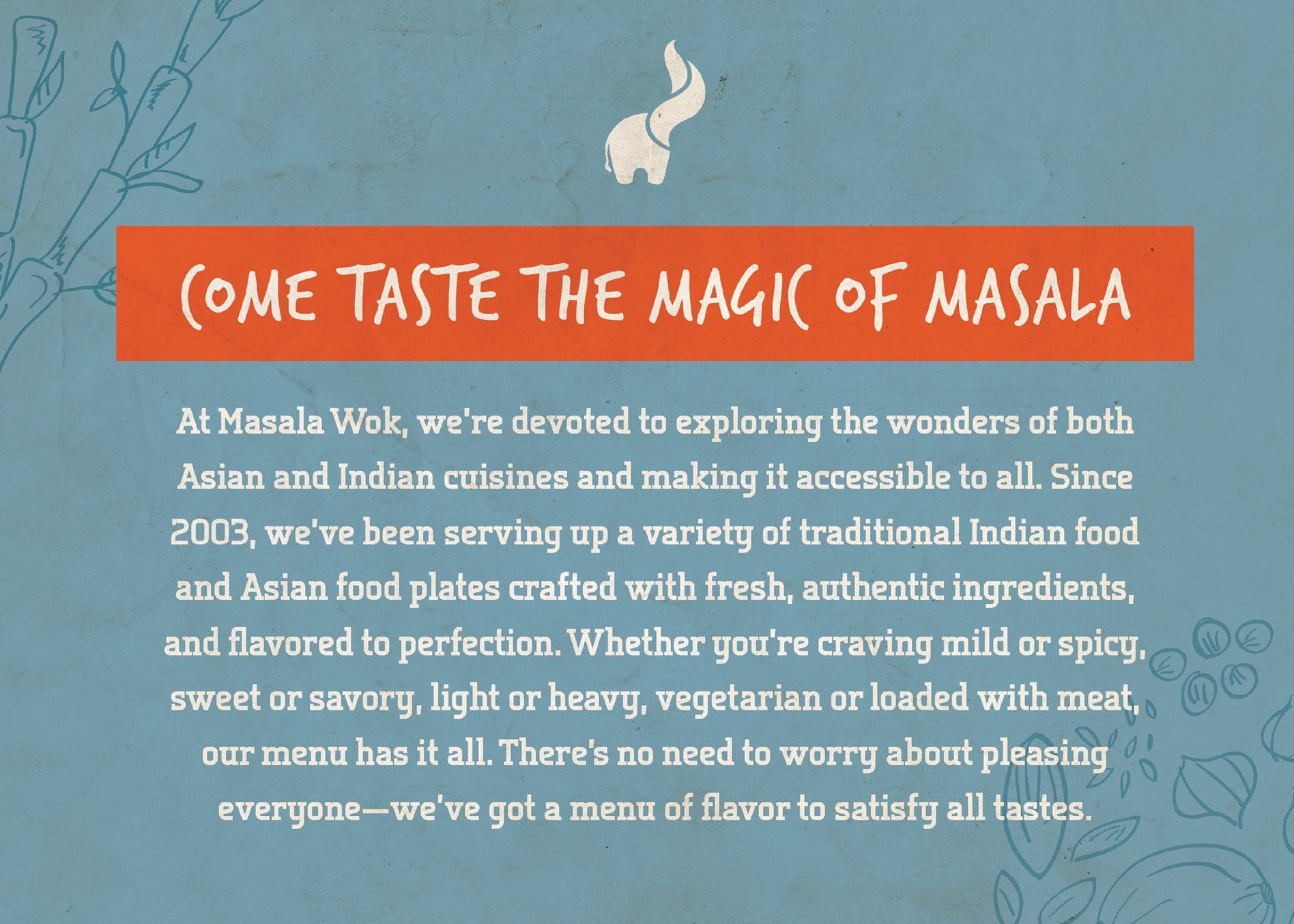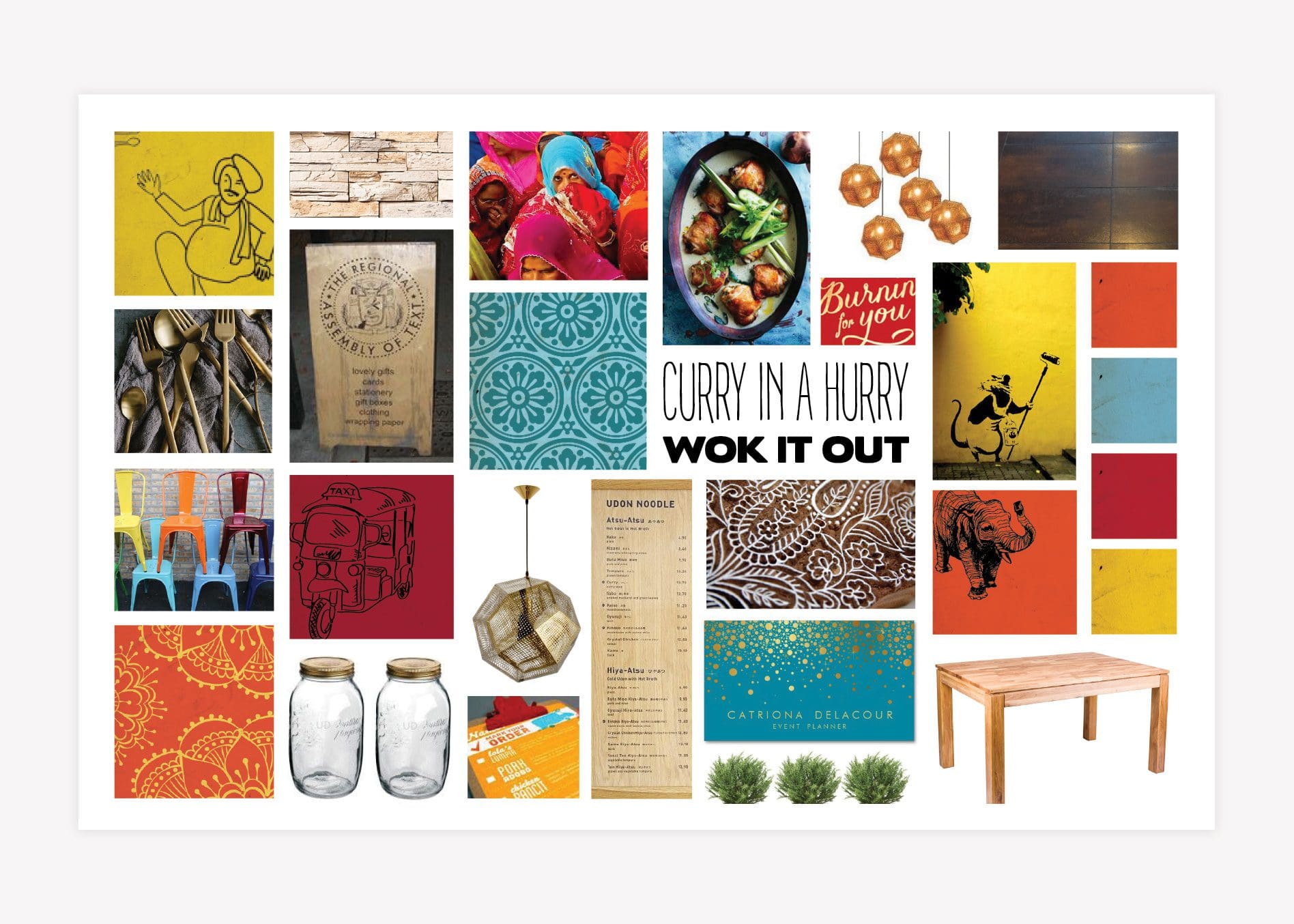 Step Two: Do the Dang Thing
Here's where the tactical work begins. Interior branding or interior design. Menu offerings. Menu design. Logo development. Website development. Food photography. Uniforms. Staff hiring and training. Operations. All the things. 
So where do you start? You start by deploying the teams. Right off the bat, the branding team, the general manager, and the kitchen operator should begin to define and finesse their departments to align with the newly established brand position. 
If you hired a restaurant branding firm like ours with interior capabilities, they kick off their process, which should be clear and proven time and time again. Our design team begins with logo development, and then moves to menu design and website design and development, and then moves on to the creation of any other restaurant materials that need the touch of the design crew.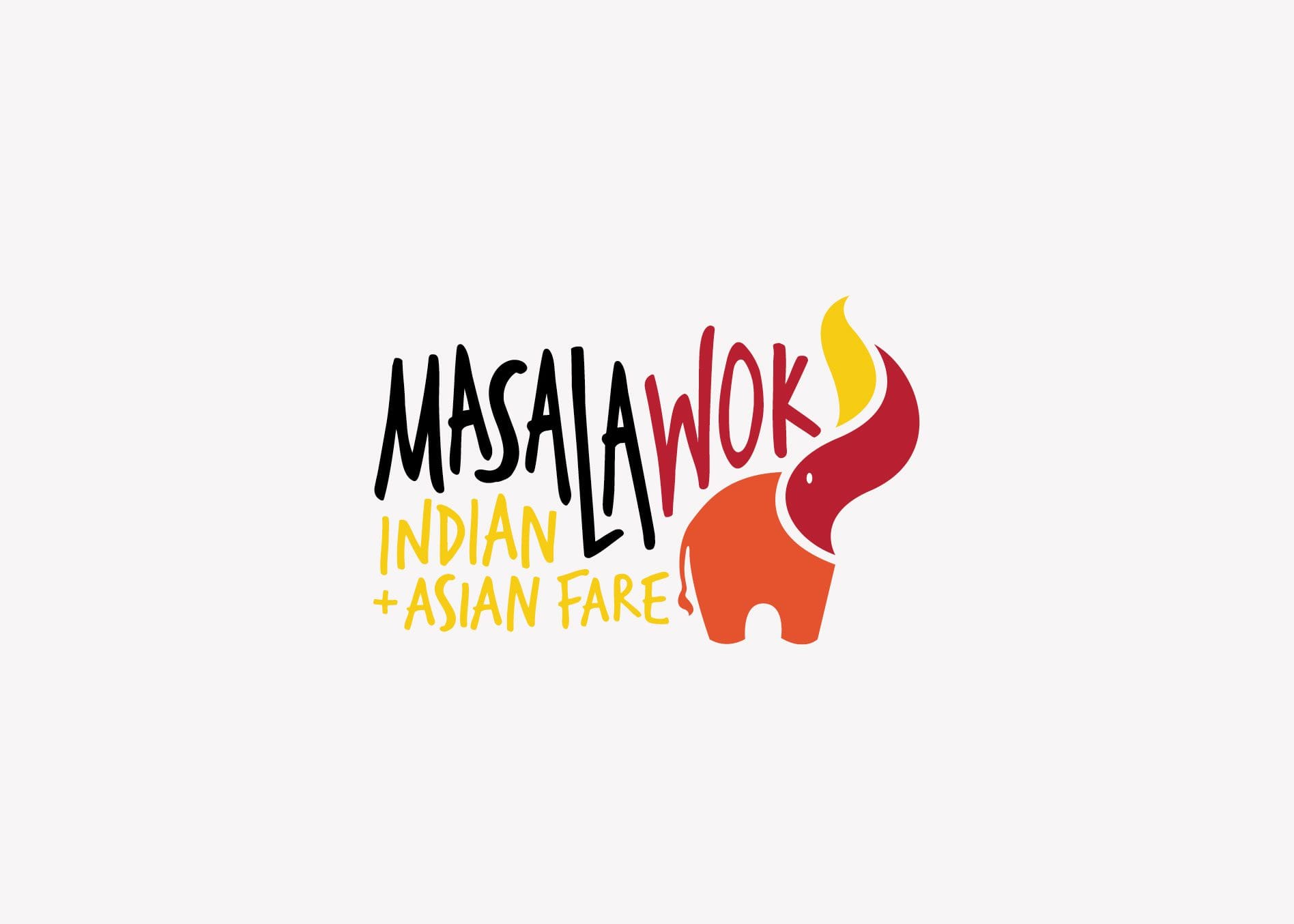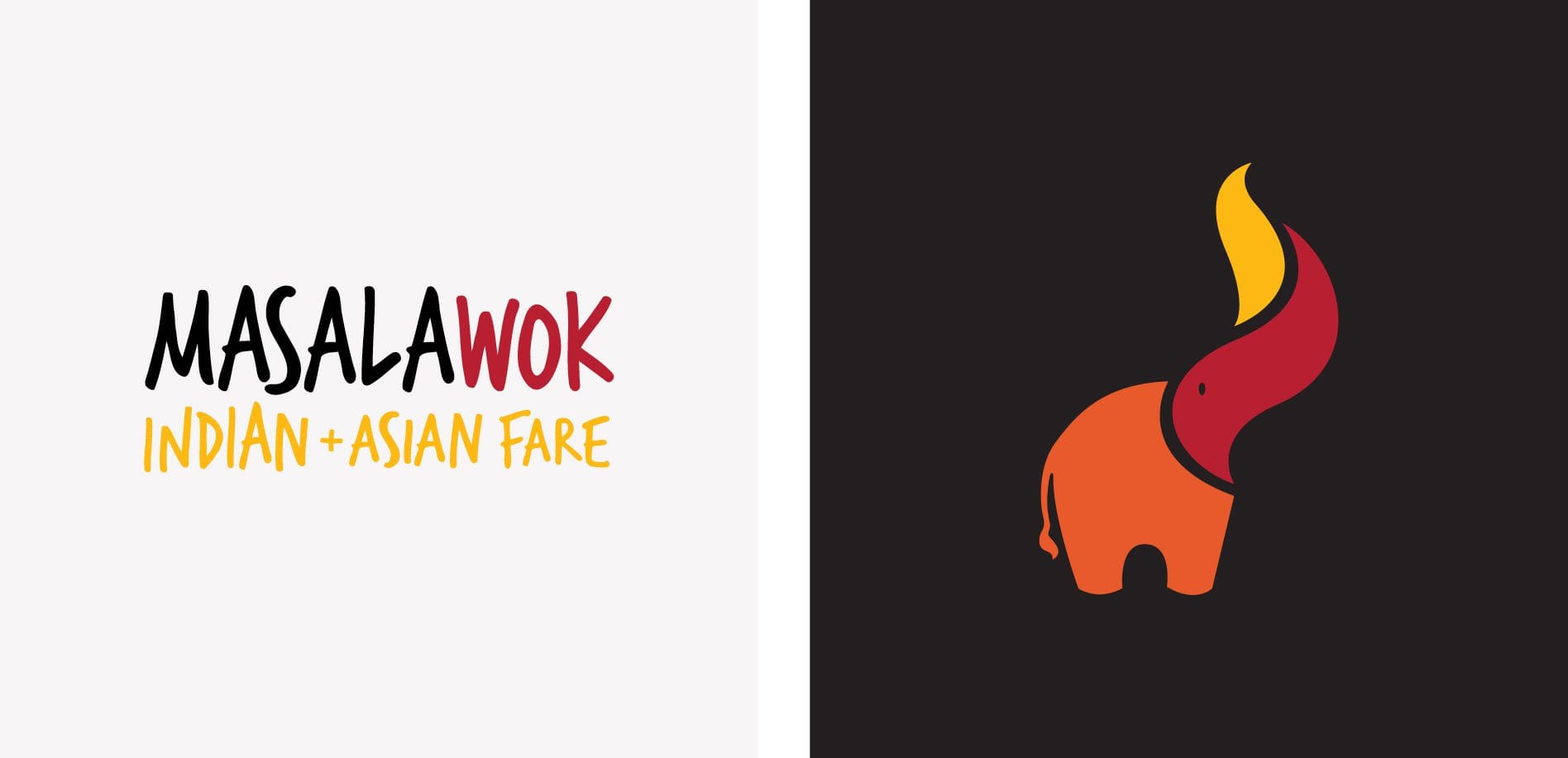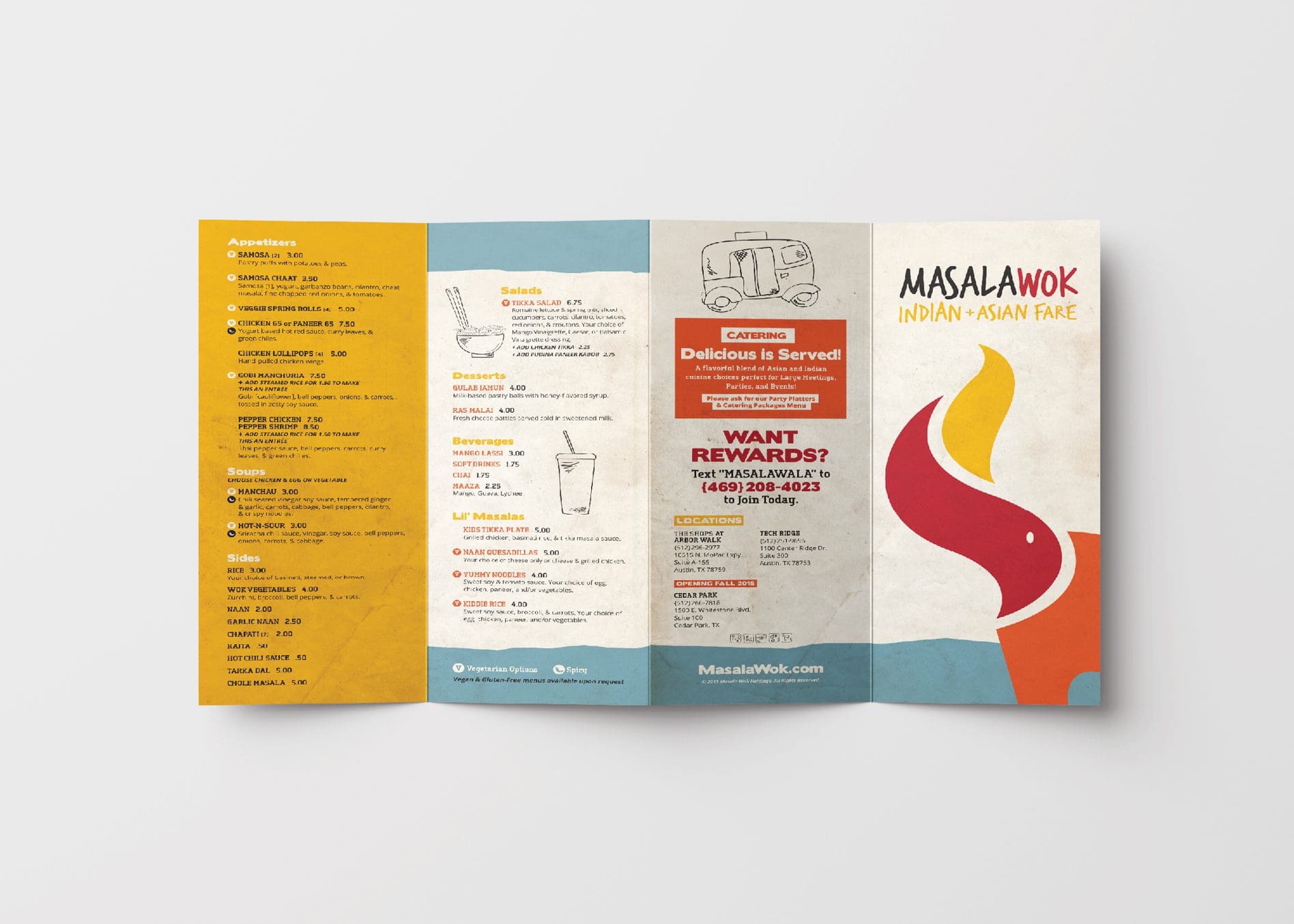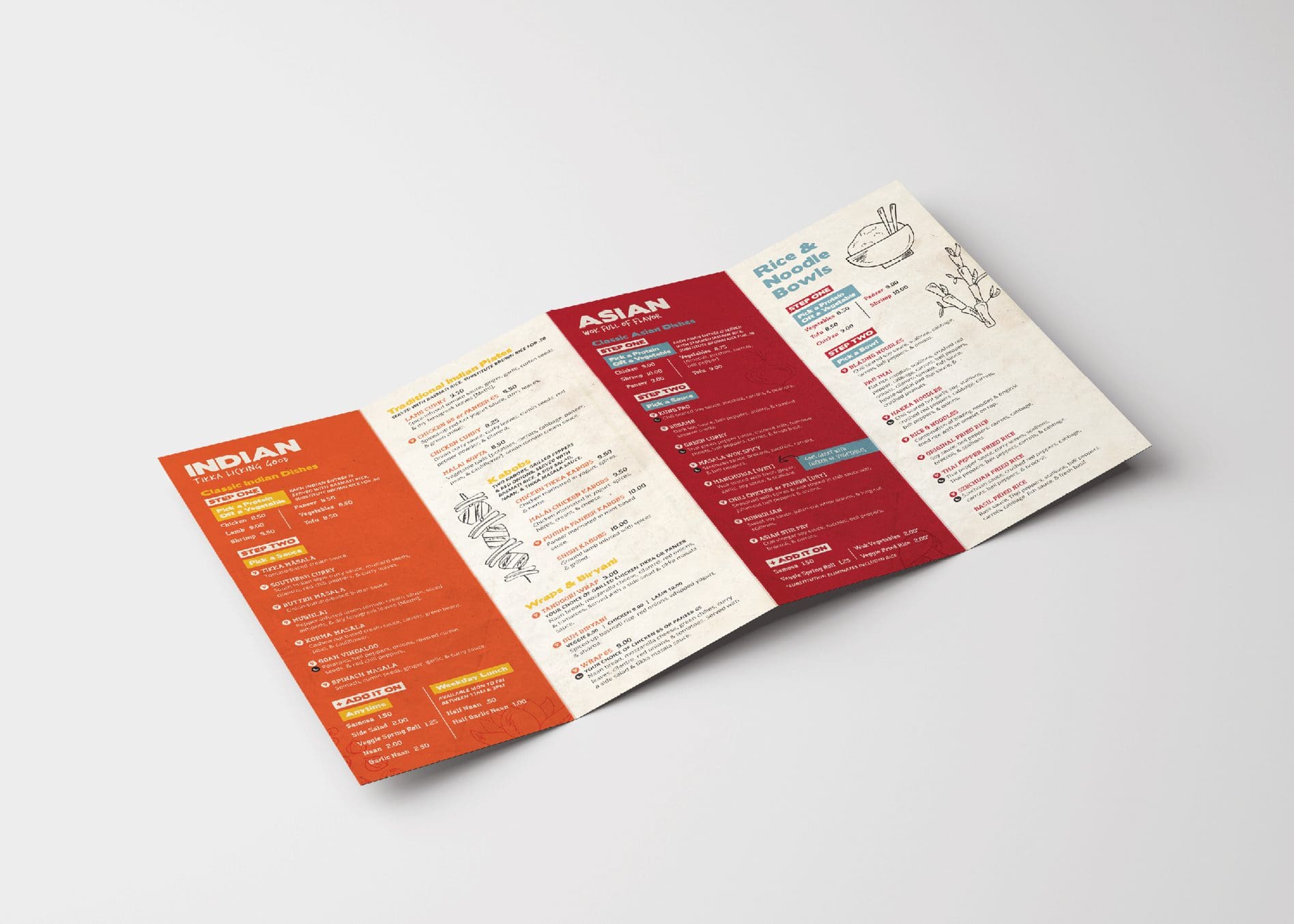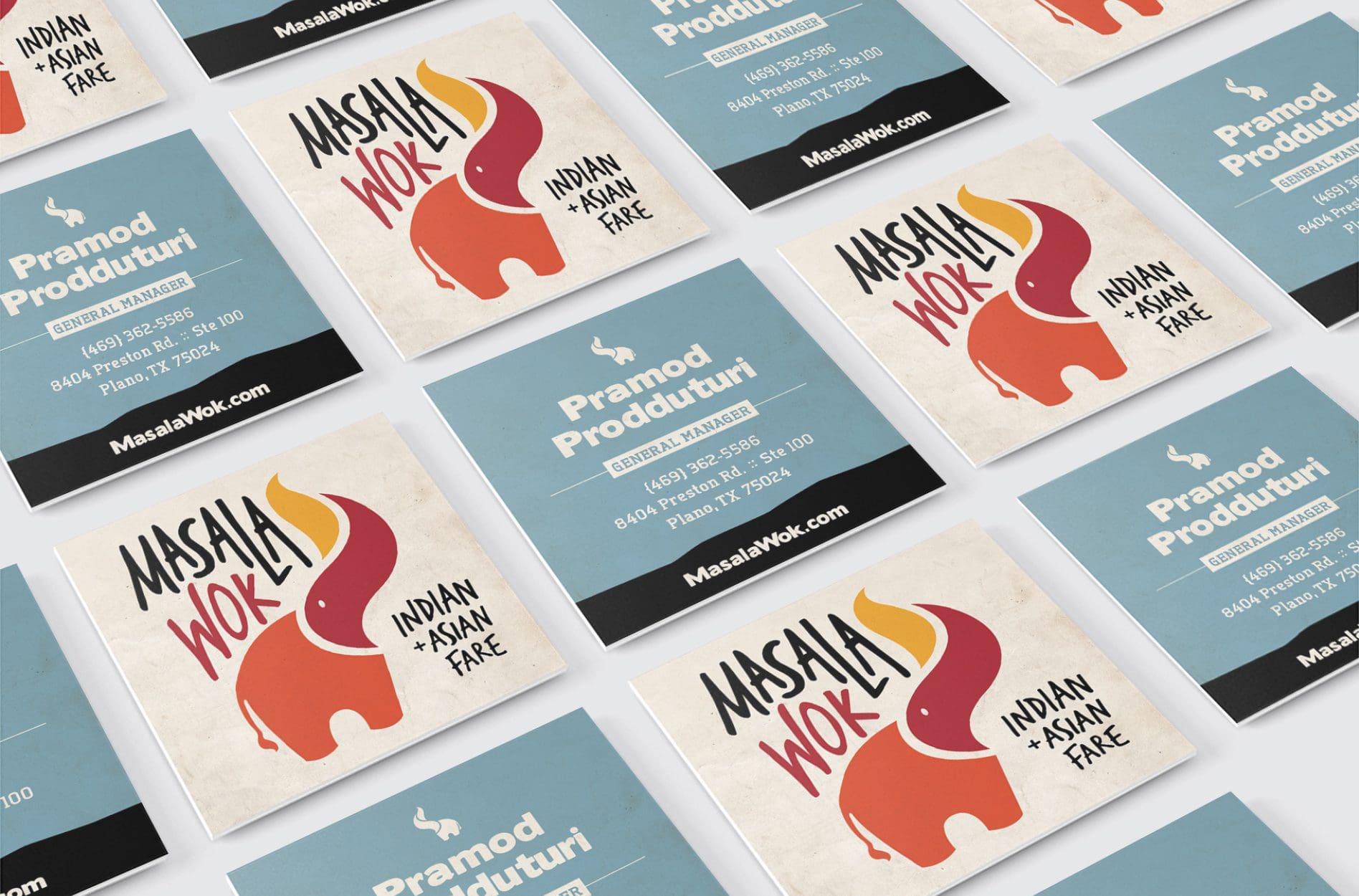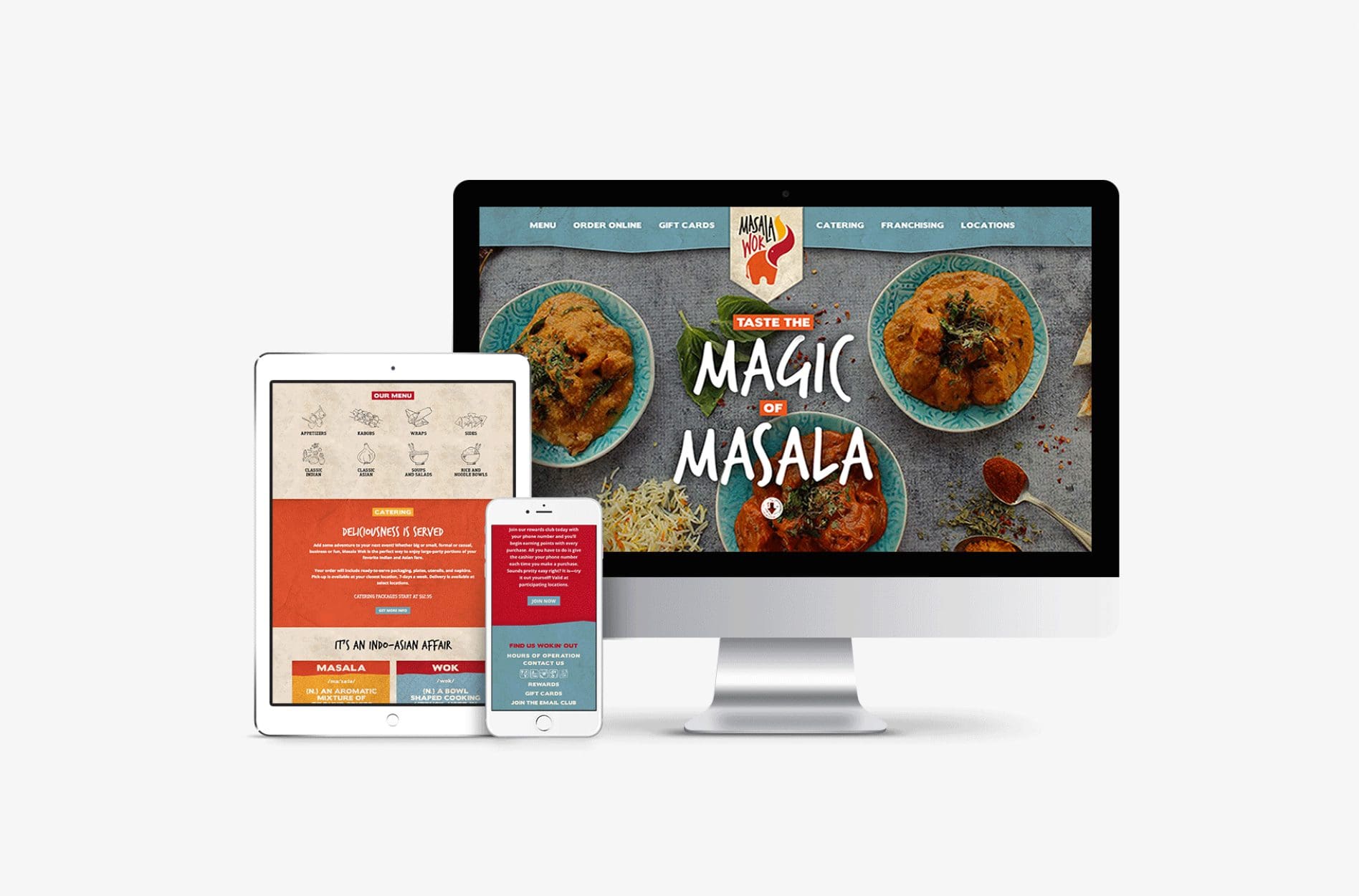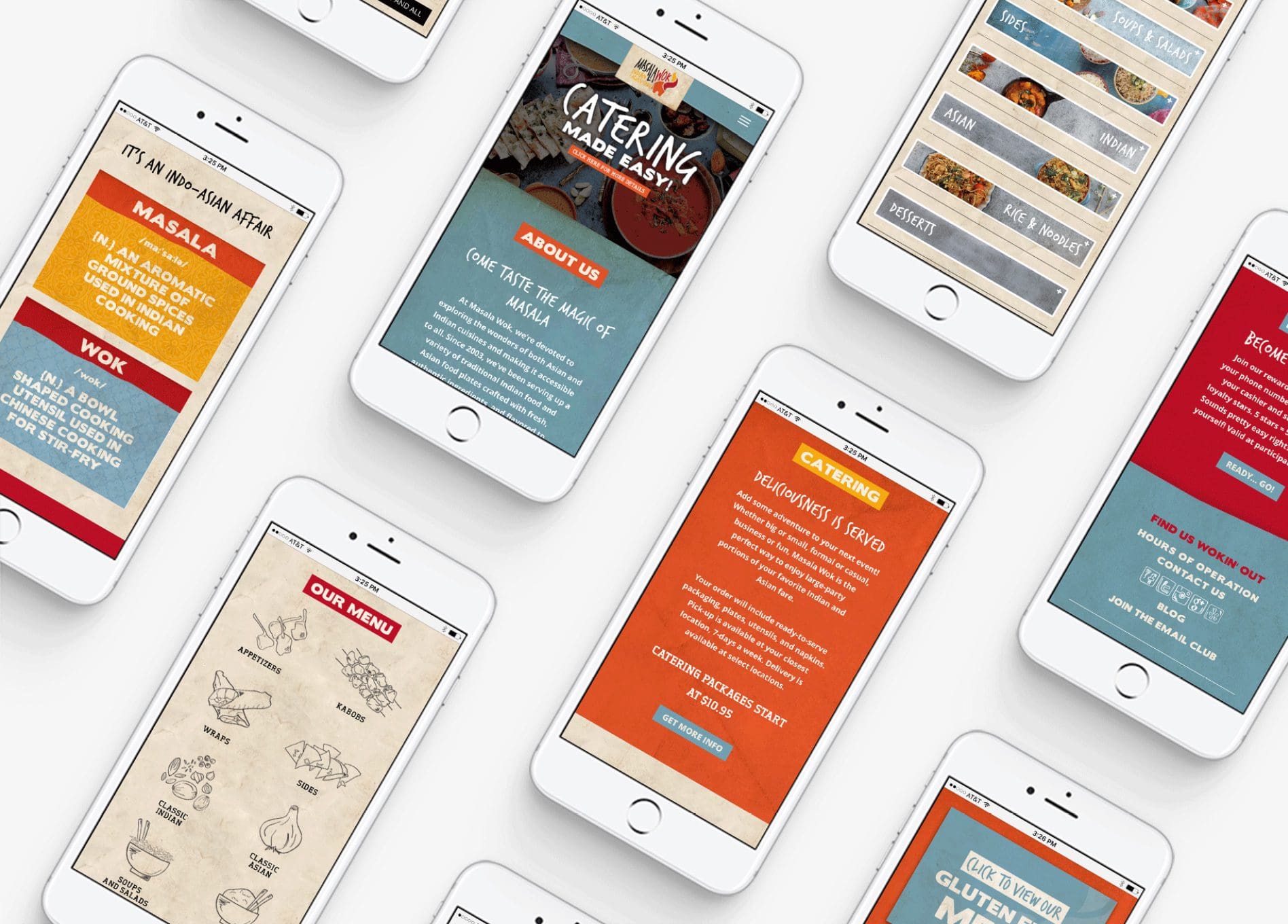 At the same time, our interior team is working with the architect to examine the customer journey and pinpoint areas of possible impact. For our clients, we work with restaurant architectural firms who are experienced in space requirements for optimal restaurant flow and flexibility. Both parties work together to distill the customer journey and pinpoint what the customer should experience at different turns throughout their visit. Working together, a floor plan is finalized for front and back of house.
Next, our interior team takes the established floor plan and plans interior finishes, furniture, lighting, and environmental graphic design needs, as well as future marketing systems. From there, the interior branding team works with the architect to get construction plans to a final state, ready to pass off to permitting and the general contractor.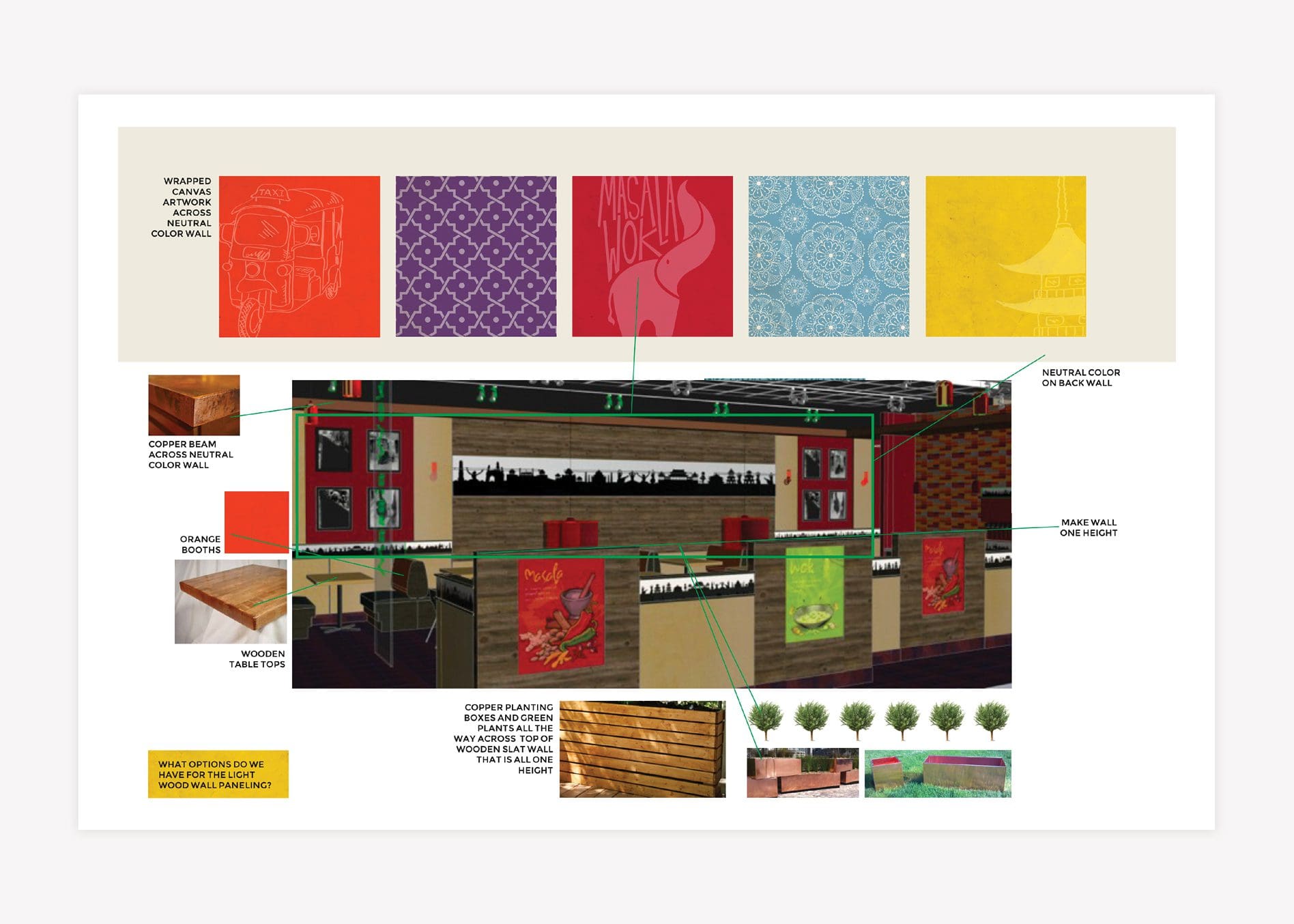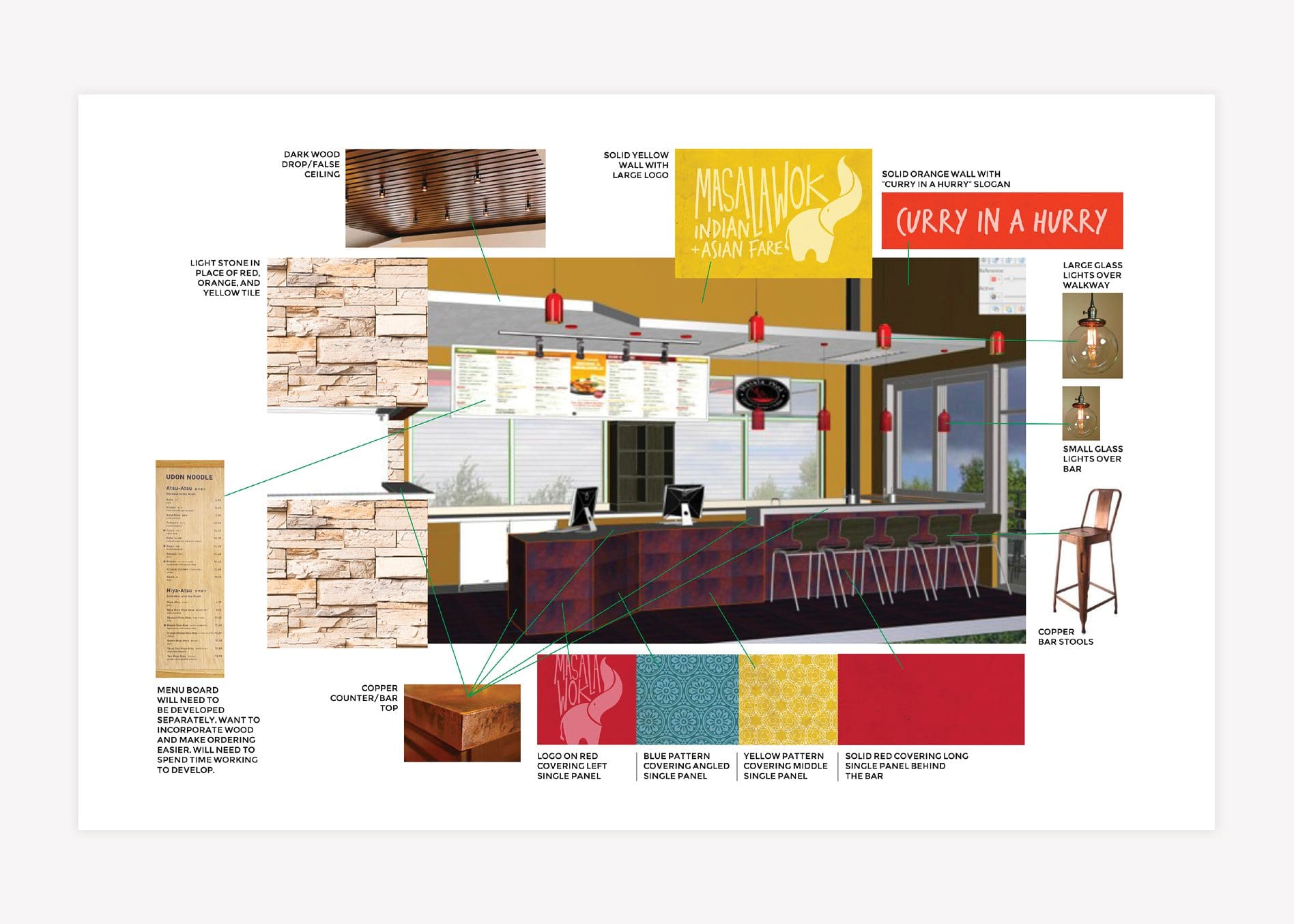 The architect can also develop 3D renderings to get a truer sense of the interior layout, or if you want to spend the big bucks, you can utilize virtual reality to see and experience the space. 
Once the construction plans are finalized, it's time to build. As this phase progresses, it's important to do testing as certain areas are brought to life to make sure flow and customer journey are without frustration. Making adjustments on the fly could be essential to success. 
During the construction phase, the restaurant branding firm will continue the development of all the restaurant materials, including cups, to-go bags, employee attire, merchandise design, menu boards, interior signage, exterior signage, and what seems to be a million more little things.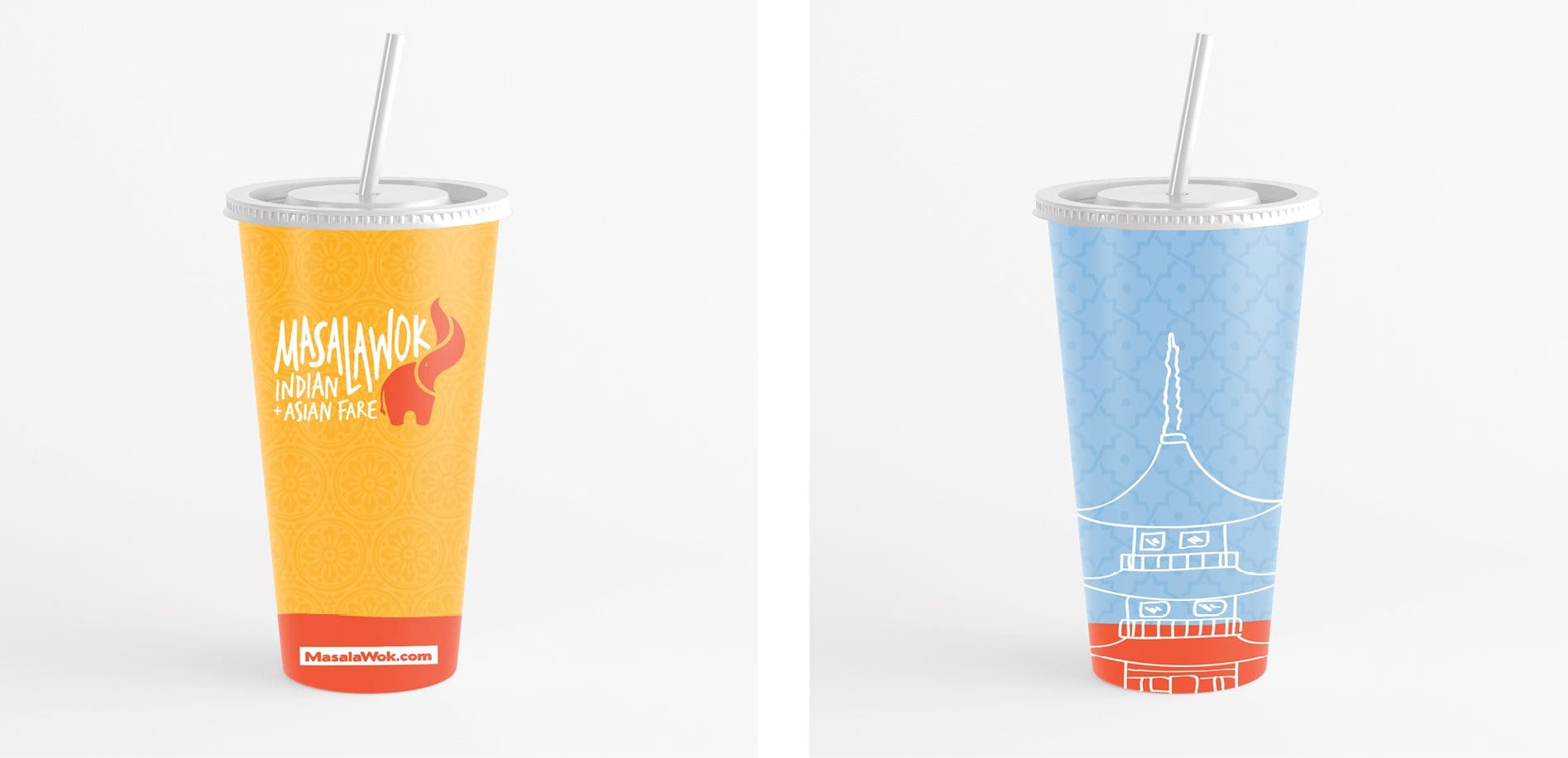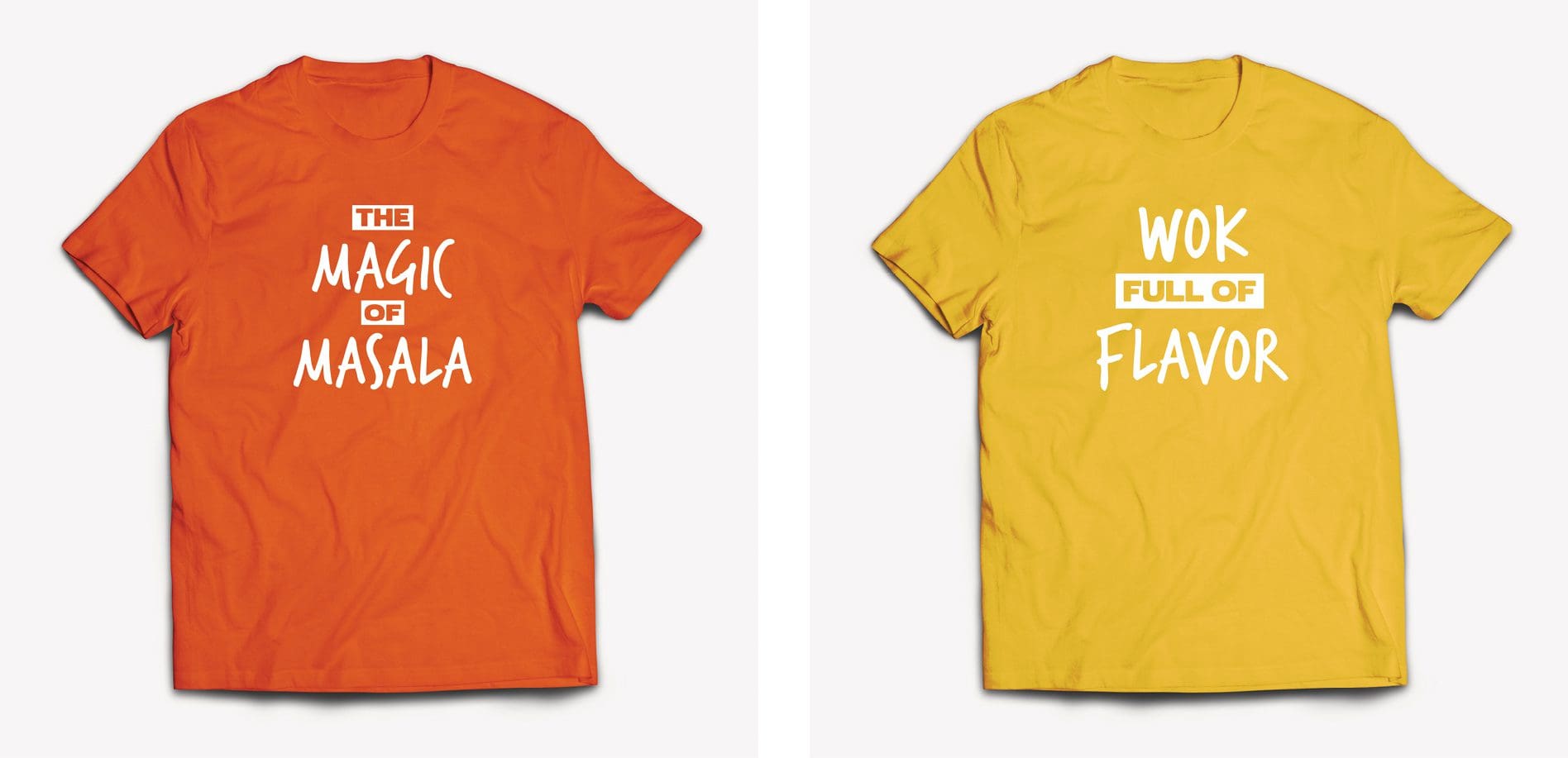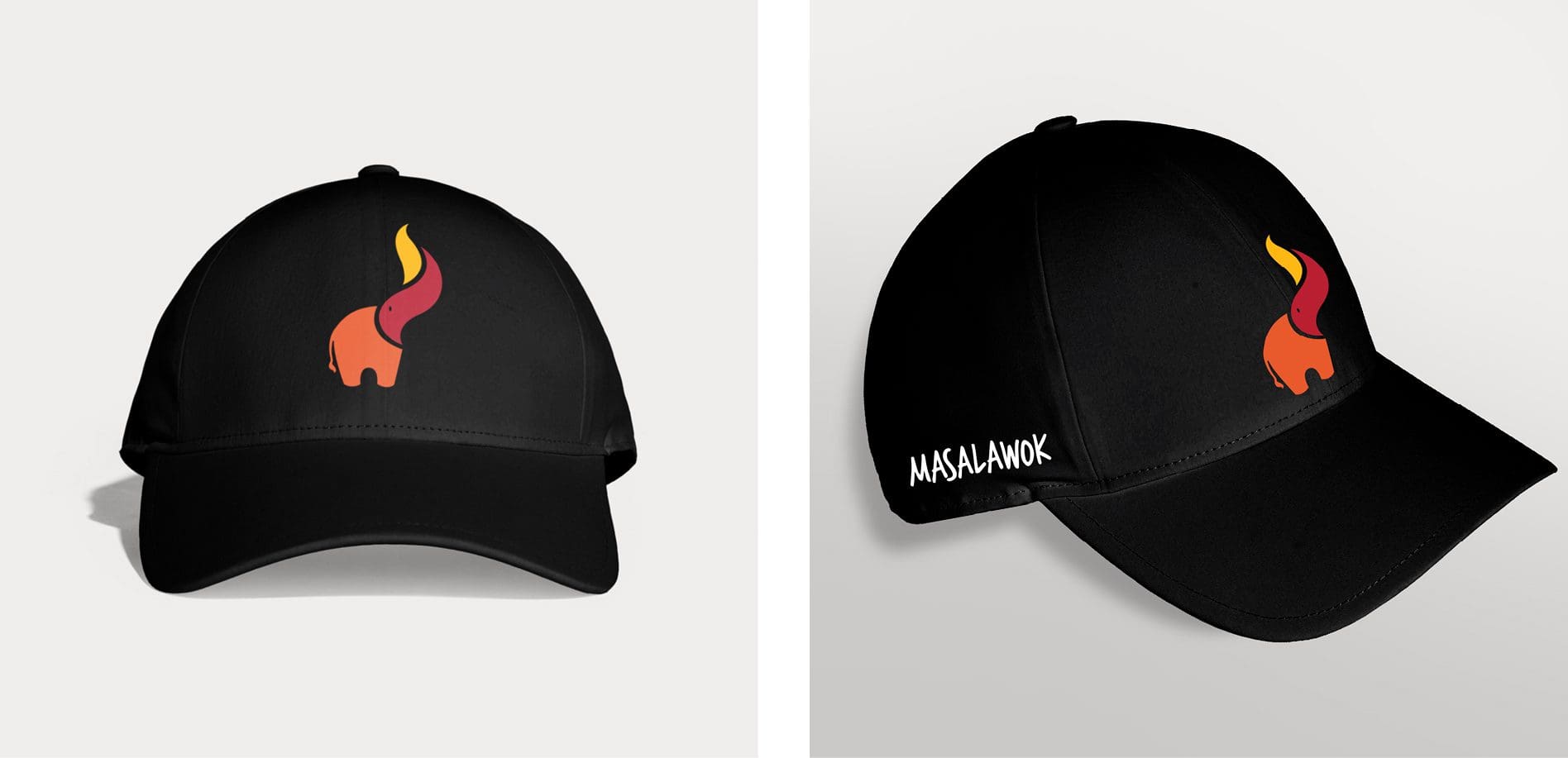 Side Note: If you are developing a concept that will be implemented in various locations through franchise, consideration should be given to different investment levels. This is specifically important when revamping a concept and asking partners or franchisees to invest in the improvements. While working to reinvent 16 Handles, a fro-yo concept in the northeast United States with over 50 locations, our team created options on interior pieces that would allow franchisees with varying investment options the ability to update their space while staying within the confines of the brand. We created good, better, best options for multiple interior areas and defined other non-negotiable key touchpoints that needed to remain consistent from one location to the next. 
All along the way, your culinary team should be developing the menu offerings, if not yet set, and your operations and management team should be focused on hiring and training employees to be ambassadors of your brand. They should be determined to create an experience that aligns with the positioning of the brand, or better yet, accentuates the soul of the brand. Ever heard "It's my pleasure?" 
Moving through the process in the manner outlined above will assure that you have a brand that is built on a solid, purposeful foundation which, if created by the right team, will lead you to owning a coveted restaurant concept. 
There's not a one-size-fits-all to create a restaurant with this feeling or that feeling, rather, it's a series of choices influenced by a defined direction that was set during phase one. 
Step Three: Evaluate and Get Ready for Adjustments
When developing a new restaurant concept or reinventing an existing concept, it's wise to create one location and let it run under tight analysis before moving the new concept into multiple locations. Once the first store is up and running, evaluation must be a priority. 
During the evaluation phase, owners must be willing to make necessary adjustments, so go ahead and add that into the budget. Unexpected hurdles will arise whether it be in menu offerings, customer journey, or operational encounters. Proper analysis will allow these issues to be squashed before they are repeated through multiple locations. 
Our restaurant branding agency works with Holler & Dash, a biscuit house birthed by Cracker Barrel. The internal team is fantastic at the implementation of change at one single location. Once the improvement is proven to meet the intended goal, the change becomes a permanent fixture in their other locations. This includes design, operational, or menu changes.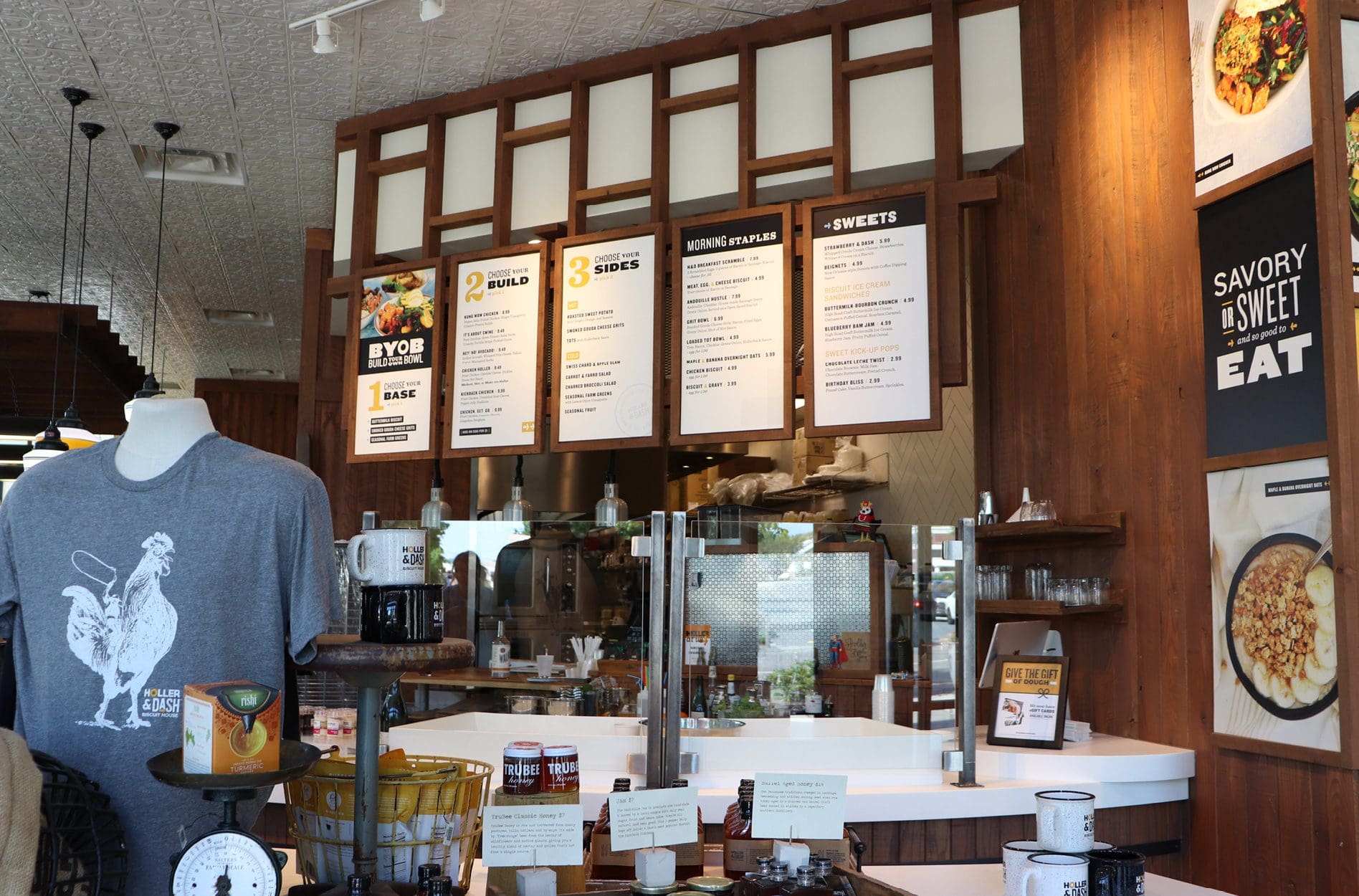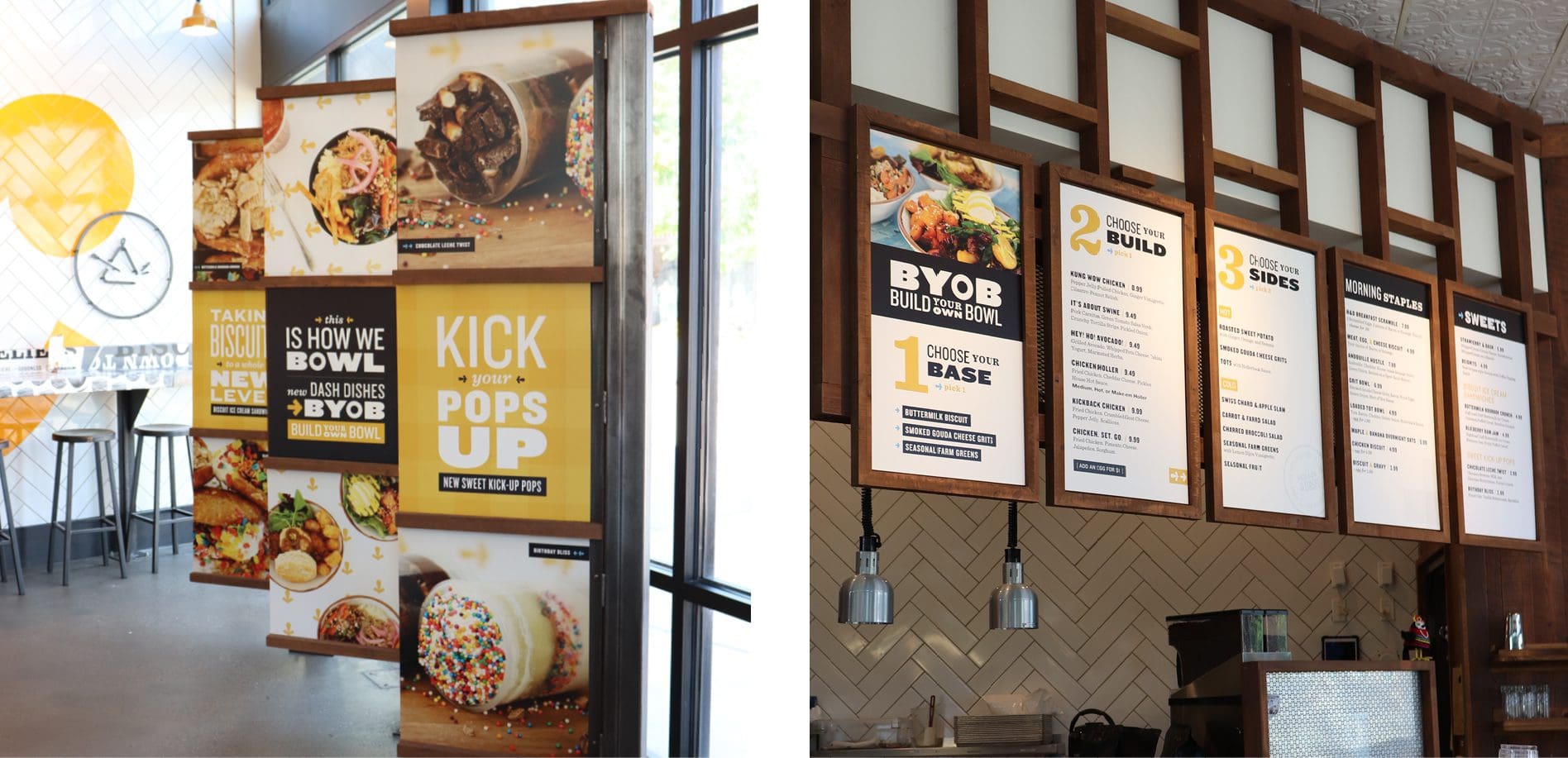 Ready to Reinvent?
Creating or revamping a restaurant concept is not an easy feat, but under a proven process with a team of restaurant branding experts, experienced architects, a culinary genius, and an operational rockstar, you'll align yourself for success. 
When choosing a branding firm, be sure to check out our restaurant branding work. 
If you're interested in allowing the restaurant branding experts at Nice Branding Agency to hold your hand through the development process, please call us at 615-905-9936, or email us at holla@nice-branding.com.
While you dream, check out some of our previous projects in our restaurant branding portfolio. 
ready to brand your restaurant?